Filter by Category
Music & Dance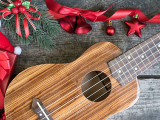 Ukulele Christmas
with Duncan Perry

Current session started Dec 6, 2022 at 6 pm

, runs for 2 weeks
Music of the Christmas season is well loved and great fun to play on the ukulele! Are you ready to Rock Around the Christmas Tree, Deck the Halls with Boughs of Holly, and have a Holly Jolly Christmas? Then this program is for you. You'll begin by reviewing strumming and chording basics then easy-to-play carols and tunes. Learning is graduated as songs with increasing numbers of chords and requiring more complex techniques are added. To get the most out of this program, you should know how to comfortably play the ukulele using common chords and strumming patterns. Here's a taste of the songs we'll explore: We Wish You a Merry Christmas, Hark the Herald Angels Sing, Joy to the World, Silent Night, The Little Drummer Boy, Walkin' In a Winter Wonderland, Rudolph the Red Nosed Reindeer, Do You Hear What I Hear, We Three Kings and more!
Introduction to the Ukulele for Seniors - We'll take it slow and easy
with Duncan Perry

Current session started Dec 7, 2022 at 10 am

, runs for 2 weeks
It is never too late to learn to play a musical instrument -- and, besides, it's good for you! And what fun it is to pick up a ukulele and knock out a tune for your grandchildren, or better yet, play along with them. Or how about the thrill of playing for friends and with others? Here's where that journey begins! Join us for our easy-paced, no-pressure, fun-filled ukulele class! Our seasoned and popular ukulele instructor, Duncan Perry, himself a senior, loves sharing his knowledge of the mighty ukulele and will start you out slowly. He will teach you a handful of chords and some basic strumming patterns and you will leave the class knowing how to play songs you grew up with! No experience playing an instrument is necessary and you don't have to know how to read music. But you do have to promise to practice regularly! Of course, you will need a playable ukulele (we are happy to provide informationon where to buy one if you don't have one available). So grab a uke, sign up, tune up, show up and bloom on Zoom! (We can help you get acclimated to Zoom too, but you will need a computer or tablet capable of receiving Zoom).