Filter by Category
Exercise & Outdoor Fun
POUND
with Becky Hanaburgh

Current session started May 11, 2022 at 6:30 pm

, runs for 6 weeks
POUND is a cardio jam session inspired by the infectious, energizing and sweat-dripping fun of playing the drums. Using Ripstix, lightly-weighted drumsticks engineered specifically for exercise, POUND transforms drumming into an incredibly effective way of working out. Designed for all fitness levels and easy to modify, POUND provides the perfect atmosphere for letting loose, getting energized and improving your health. Please bring a yoga mat and wear comfortable workout clothes.
* No class 2/23 and 4/20 *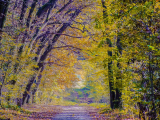 Forest Therapy
with Maureen LaSalle

Next available session starts Jun 18, 2022 at 10 am
We invite you to join Maureen LaSalle, of Leaf it Behind, for a 2 to 3 hour therapeutic forest bathing walk. Maureen is a trained guide with the Association of Nature and Forest Therapists. Through a series of invitations, this leisurely walk will immerse participants in the natural beauty of the woods in winter. Forest bathing has been shown to lower blood pressure, prevent stress and anxiety, increase cognitive functions and boost immunity - things we can all benefit from during these challenging times. Maureen uses techniques that encourage participants to tune into their senses and be present in the beauty of what is around you. This guided session will bring participants no further than a ½ mile walking distance. Attendees must be 16 years or older. Pets are not allowed.
* 4/2 class rain date is 4/3 *
* 5/7 class rain date is 5/14*
* 6/18 class rain date is 6/19 *